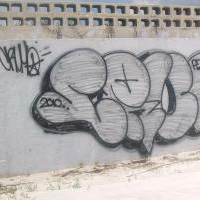 On November 6, Investigators with the Morro Bay Police Department identified a 13-year-old male and a 15-year-old male, both of whom are Morro Bay residents, which police believe are primarily responsible for the rash of graffiti vandalism in north Morro Bay. These incidents involved the use of a "crown" insignia among other symbols and lettering. The possibility of other juveniles involved in these crimes has not been ruled out, and the investigation is ongoing.
The juveniles identified have not been arrested, and are now in the custody of their parents. Morro Bay Police plan to file multiple counts of vandalism with the San Luis Obispo County District Attorney's Office seeking prosecution.
Over this past week, Morro Bay Police conducted targeted patrols in areas of the city known to attract graffiti vandals. As a result, Officers arrested a 17-year-old male juvenile on November 3rd for one count of graffiti vandalism to a public bridge near the 1600 block of Main St. The graffiti in that case was not associated to the other incidents. The juvenile, also a Morro Bay resident, was given a misdemeanor citation and released into the custody of his parents. In addition, Morro Bay Police arrested 18-year-old Claire Beaux Allen, of San Luis Obispo, for supplying spray paint to a minor. Allen was released with a misdemeanor citation.
To combat the currently graffiti defaced areas, Morro Bay Police, in cooperation with our Police Volunteer program and the San Luis Obispo County Sheriff's Graffiti abatement program, are in the process of removing graffiti, including the defacement of a neighborhood church. Our department wishes to thank the concerned citizens who helped us identify the multiple areas of graffiti, our Police Volunteers for their service, and our San Luis Obispo County partners for their assistance in abating the defacement of our community.