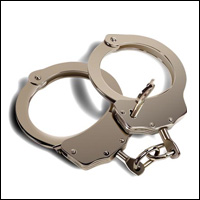 Atascadero Police say two people are in custody for robbing the Chase bank on El Camino Real yesterday. Police arrested a man at around 6:00 Thursday evening near Walgreens on El Camino Real. Police describe the man as Hispanic with white makeup on his face.
An anonymous witness called the police because he was suspicious that the man was wearing makeup. Police were also given the description of a vehicle seen leaving the scene of the bank robbery. An officer patrolling nearby spotted a car matching the suspect vehicle description, and stopped the car. Witnesses say police then surrounded the car with guns drawn for about 45 minutes before the suspect climbed out of the trunk and surrendered.
Officers say the robber told tellers he had a gun, and took off with money. Police say a woman was also taken into custody. This is the third bank robbery in San Luis Obispo County in the past month. Atascadero Police are working with the FBI to determine if Thursday's bank robbery is related to the previous two.