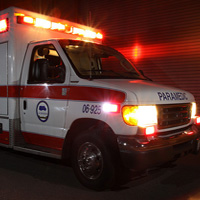 The hiker whose body was found March 17, on lower Cold Springs Trail near Tangerine Falls in Montecito is 22-year-old Brenden Michael Vega of Ventura. He was hiking with his friend, 22-year-old Saylor Guilliams, also of Ventura at around 4 p.m. on Sunday, March 16. She was found by several hikers injured with two broken ankles and a broken wrist, among other injuries, around 4 p.m. on March 17 at the base of Tangerine Falls.
Vega's body was discovered by a couple who was hiking in the area. He was located at the bottom of an embankment in a heavily wooded and rocky area. It took Sheriff's Search and Rescue Team members several hours to extricate the body and transport it out of the area. Just as Sheriff's Search and Rescue Team members had completed the call around 4 p.m., they received another call that there was an injured hiker located at the base of Tangerine Falls about one hundred yards above where Vega was discovered.
A group of hikers discovered Guilliams lying unresponsive in a concealed area off the trail. She was airlifted out of the area by Santa Barbara County Air Support Unit Copter 3 and transported to a local hospital where she is still recovering from her injuries. The hikers had gone on a late afternoon hike and were unprepared for the conditions.
The lights from their cell phones were not enough to illuminate their path and the hikers fell and injured themselves several times. After calling for help for several hours, Vega reportedly left Guilliams alone to get help. While traveling down the trail, he fell off a rocky ledge and was killed. The cause of death is under investigation by the Santa Barbara County Sheriff's Office and is pending toxicology results.