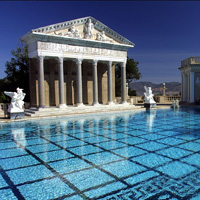 The world famous Hearst Castle is buzzing this week with Lady Gaga and her entourage doing an elaborate video shoot. The hilltop estate in San Simeon, California is packed with more than 100 people, including dancers, who are working on the video.
Word of the production comes on the heels of reports that the five-time Grammy Award winner recently teamed up with the cast of "The Real Housewives of Beverly Hills" for a secret shoot. Sources tell "Us Weekly" the star has enlisted the ladies from the hit Bravo series for her latest music video. Apparently it was shot shortly after the show's recent reunion special.
In addition to shooting the music video at Hearst Castle, Gaga will also shoot a public service announcement on water conservation and a short feature about the castle which will be donated to the Hearst foundation.